Biography
What was a great joylessness of an inconspicuous Polish language teacher from a small town Ropczyce , she had been completing the postgraduate study for theatre directors when she gave birth to her beautiful baby girl on the 27th March 1977 . That was the very rainy day of the rainy year 1977, besides it was the International Theater Day. She named her baby girl Lidia Justyna Miś. The little Lidia was the second child in the family (her fruit of love with a gardener from an area of Rzeszów . Lidia was broughtup as an open, friendly child just a little bit spoiled one.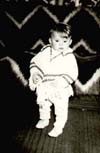 The mother took action in teaching her daughter diction and reciting of poetry Lidia didin't indulge herself in the spell of the scenery. She only absorbed the declamation method of a text and curled up her personal fantasy , she was living between the literary heros which were very important to her mother, Lidia scribbled something on pages of her notebook.
When Lidia was 8 years old a grain of her literary fascination sprouted and she wrote her first story , which bore marks fascinating story. It was written in a lush location of 10 hectare orchard and narrated about puppies " Diana, Gerwazy and little Prot – stories about them."( There were names of her puppies )Lidia didin't have enough time and the story ended just on the title.( Although it wasn't stylistic correct. )Having spent lots of time trying to take care of the puppies, her summer holiday ended quickly not giving her chance to write anything else .Lidzia had to get on with her duties in the school, he attended the second form of the primary school, in order to assemble experiences which were necessary to her fulfillment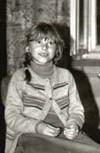 Her literary attainments started to grow in while she attended the primary school. They were augmented by funny rhymes and a romantic novel which didin' t end on the title, but it ended halfway through it, she was waiting with a longing to laurels. Lidzia appraised the situation quickly and she knew that she must work hard above her literary workshop. One year later she wrote a racy diary, it was full of wonderful stories about fourteen years old girl about her private life .However the bad fortune didin't open her the door to the fame. The fortune felt her willingness to the world conquest, it poked fun at her , it put a diary somewhere. Nevertheless, nothing could stubborn Lidia prevent from going her avowed life-way.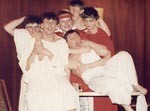 While she was attending the Gardening Technical School at Ropczyce, she proved herelf to being an actress . In the process of attending this school she played Mirryna in the play " Kasanadra's Defence". She also took part in numerous reciting competitions. Three years later she played the main part in the comedy " Men for Rent . "She closed her youthful period of life and wrote more ambitious poetry and she started only to write the sage " Distance Horizons".
While she comes over her big love and she creates a family with handsome Tomasz Nowak, Lidia gives birth to her first baby girl Brygida. Lidia decides to study economics. Holding hardly at the Polish reality Lidia works in various firms ( in the own firm too ), moreover in the Film Studio of Rzeszów as a specialist for TV commercial and promotional films.
In a few years she has her second daughter Julia. And takes care of her. Being a very busy women which at a time has to share her duties as a wife ,a mother, a student and a success women, unfortunately she refuses her biggest love to writing of fascinating books , which could beat everybody hollow .At the time she defendes hers M.A. thesis at WSI I Z in Rzeszów and at Technical University in Rzeszów.
Feeling tired of leading such a hectic life, on one of the fall mornings, she reminded herself of her big passion. She writes her first book" Wicca – Magic Bonds" in about a month –it tells a story about a family, which is cursed mysteriously since generations. A few months later, on request Brygida- her elder daughter – Lidia writes another book for children " Visiting Witches "She didin't believe herself so what was her surprise when the book made a furor
More confident to write her books well, she writes another book " The Secrets.of the Pink Lake - Elf's Legend ". This time it is a book for teenagers. Her heros are presented on the strength of Celtics magic and their secret power of Runs .It should be added here that Lidia has a soft spot for the Old- Slavic Customs and Rituals, Tarots, Runs , Celtics magic .And that is why her writing is so influenced by the magic world and at once it is so peculiar ad full of the paranormal phenomena.
Next year she writes another novel " Men's Point of View". This is a story about a young, modern women called Magda who is able to hear her husband's thoughts. The novel describes the marriage very explicitly.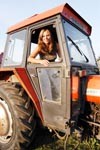 In December 2004 Lidia inherits her father orchard and she meets the challenge as a young farmer. It turns out that she can share the work in the orchard with her writing which she can completely devote her time for the bellowed writing in winter. Meanwhile this year at Christmas Eve Lidia receives her first printed version of " Visiting Witches " which is printed by her own spending. She never dreamed that the book could be a real bullseye.
In February 2005 Lidia receives reward for the Most Interesting Debut of Podkarpacie 2004 in Prose, the Association of Polish Writers with a branch in Rzeszów rewards her. This cultural event opens her the door of new prospects. Shortly the publishing house Ad Oculus with branches in Warszawa and in Rzeszów takes her under your wing. Ad Oculus revives the book " Visiting Witches " which print run is sold in about a year. The publishing house orders next books; one year later it is published " Grandpa's Joseph Biblical Stories ". This book is written on the strength of her experiences and memories from her childhood.
To Lidia is the welfare of children the most important thing in the world, therefore she decides to do Pedagogic as two years postgraduate studies at the Technical University in Rzeszów with a view to get to know the children psychology.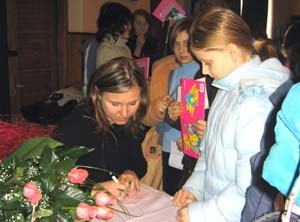 She takes part in numerous gatherings in the Culture Houses , Libraries , Schools, Children's Homes, in Detention Centers and in hospitals ( peadiatric wards ) and she receives the Diploma of accolade for her being friendly and for her support in the social campaign " The whole Poland reads children "in February 2007. So starts the fruitful cooperation with the foundation ABCXXI.
In August 2009 " The Heart of the Forest " is published, this time it is collection stories in six books; It consists of The Dwarfs Book , The Elf's Book, The Trolls Book, The Nymphs Book, The Dragons Book and of The Forest Book.
She presently works to publish books which are in computers memory and prepares : next six parts of " Grandpa's Joseph Biblical Stories" and books series about gnomes adventures " The Effigies and the Pop Facelek", " The Effigies and deaf little Jagusia" , " The Effigies and the Teleportation ants", moreover the second part of novel :for teenagers " The Secrets of the Pink Lake entitled " " The Treasure of Darkness" and for adults two novels " The Men's Point of View" and "The Course of Dreams "
---